Every week brings more and more changes, and we are excited to tell you what we have been up to. As it has been a while since our last post, there is a lot to talk about:
Things have come to a close on the large scale solar project we have been working on with Solar City. As you can see in the  photos, all of the panels have been installed and they look great! It was really amazing to watch this project progress so quickly and we are very proud to have been a part of it. All in all, over 1,200 solar panels were installed, and they are expected to generate roughly 3,000 kilowatts of "clean energy"! Thanks again to Solar City for all of their hard work and help throughout this project.

For those who do not already know, Tanner's Bar and Grill is open for business, and it looks great! They officially opened their doors on Friday, January 13. It was a bit of a push at the end to get everything finished up on time, but everyone came together and got the job done. We are thrilled to have been a part of this project! Be sure to stop in and check out this great new dining option and take a look at their website (http://www.tannersbarandgrill.com/) to preview some of their menu options.
The Homer Fire Station is also moving right along. After a bit of a slow start, things have really been progressing as of late. We have made a lot of progress on the electrical service and should have a large amount of the conduit installed over the next few weeks. The roof should be wrapped up by next week, which means we can start hanging fixtures and get the new service turned on. The new addition is going to offer a lot more space and provide a much needed improvement for the Homer Fire Department, and it is great to watch it all come together.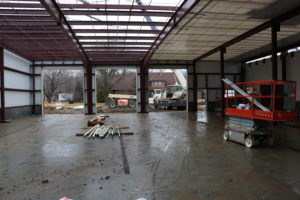 Janssen Financial in the Dunes is entering the final stages as well. Paint should be going on this week and we look to be installing our fixtures and devices immediately following. This has been a nice little project that has come together rather quickly and we would certainly enjoy working on others just like it.
Things have been moving again back down at the Northern Valley Strip Mall, and we should be busy down there working on the latest space to be filled. We will be focusing on finishing out the shell of the space to get it ready for the tenant build-out.
We also have a sizable commercial project we will be working on in downtown Sioux City over the next few months. This renovation project will rehab an existing building to allow for the construction of multiple commercial office spaces.
This is the time of year that we typically see a number of projects coming up to bid, and this year is no exception. With everyone trying to get everything in order to start moving on projects early in the spring, our estimating department has been plenty busy. We are hopeful that we can land a few of these projects and start mapping out our work for the spring and early summer.
Keep checking back here for more pictures, announcements and information. We are excited to be sharing this news with you and can't wait to show you the construction process as it continues.
The following two tabs change content below.

Gregg
Gregg Lamoreux is owner/operator of Trinity Electrical Services. He enjoys taking an active role in the day to day operations of the business, both in the field and in the office. With a career that has spanned over 20 years, Gregg has accumulated a wealth of knowledge in the electrical industry.