We have a new member of the Trinity Electric team! Today marked the first day for our new Office Assistant, Alexis Anguiano. Alexis comes to us with a solid background in the electrical/ construction industry, so we are confident she will be a great addition to our ever-growing team.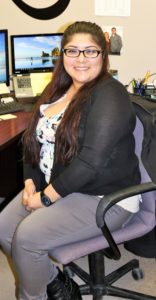 Alexis, along with her husband, is a mother of two, with a 10 year old son and a 7 year old daughter. Her son is currently involved with baseball, so she spends a lot of her free time at the park working on hitting and catching. Her daughter loves ballet, so you may find her at a recital from time to time.  When she is able to find some free time, Alexis likes to Google restaurants and find one with outrageous food names and give them a try. She likes to take her kids along and have them try the new foods first.
If you see Alexis in the office or get the chance to talk with her when you call in, be sure to take a moment to welcome her to the Trinity Electric Team! It is great to have you on board!
The following two tabs change content below.


Latest posts by Dustin Behrens (see all)