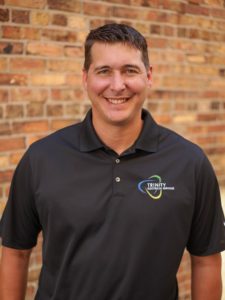 Gregg Lamoreux is the owner/operator of Trinity Electrical Services.  He enjoys taking an active role in the day to day operations of the business, both in the field and in the office.  Gregg began his career in the electrical field in 1995, obtaining his journeyman wireman license in 2001, followed by his master electrician license in 2008.  Prior to establishing Trinity Electrical Services in 2011, Gregg had been in a supervisory role for several large commercial and industrial projects overseeing the work of as many as twenty four electricians on one project.
Gregg believes, above all, in building strong relationships with our customers.  Providing honest and dependable service with the assurance the craftsmanship is second to none has been and always will be his top priority. This is why  Integrity is the foundation of Trinity Electrical Services.
In his spare time, Gregg enjoys spending time with his wife, Krissy, and daughter, Ruby.  He also enjoys golfing, fishing, and working in his yard.